×
Whoops, we encountered a problem!
Could not find any data for anyone named "Disucker" on Touch. Make sure your
Leaderboard Privacy
setting is set to Public!

Welcome
Fortnite Scout is the best stats tracker for Fortnite, including detailed charts and information of your gameplay history and improvement over time.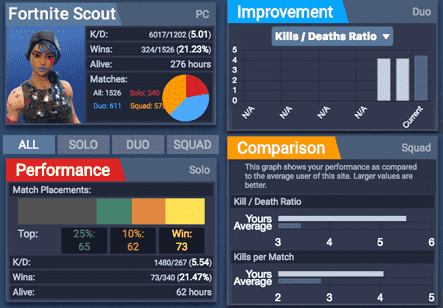 Enter your Epic Games username above to begin.
World Rankings
Wins Leaderboard
Keyboard & Mouse
Gamepad
Touch
News
New Spy Games Mode Operation: Infiltration
May 20, 2020
Fortnite released a new Spy Games mode called Operation: Infiltration where teams of 8 players need to obtain the Intel Case from the other team. The first team to secure the Case wins the round with three out of four rounds needed to be victorious. Learn more about the mode and the Tech you can unlock at Epic's site here.
Fortnite Is Launching With Next-Gen Consoles
May 14, 2020
Fortnite has just been confirmed that it will be available on next-generation consoles when they are launched. This, in turn, means that Fortnite will utilize the new hardware to improve performance and visuals. As well, around mid-2021 it will be migrating to Unreal Engine 5.
Everything great about the game will still stay the same with the cross-platform capability and all of those precious items you have that will be carried over. For more details check out Epic's post here.
Fortnite Hosts Secret Concert With Diplo and Jordan Fisher
May 4, 2020
From GameRant: Fortnite has been treating players with live events of late and recently launched a secret concert with Diplo and Jordan Fisher in the new Party Royale mode.  The secret concert was missed by many, but this event may well draw more attention to the new game mode in the free-to-play title. Some players had thought that the peaceful game mode that disables weapons and building and encourages socializing would focus on events and early signs indicate that this is the case… READ MORE
See all news posts