Welcome
Fortnite Scout is the best stats tracker for Fortnite, including detailed charts and information of your gameplay history and improvement over time.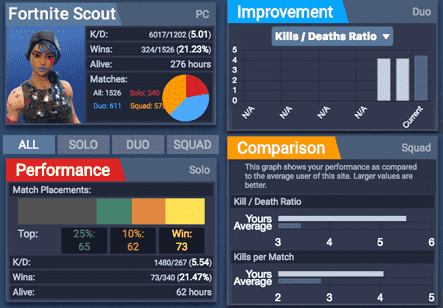 Enter your Epic Games username above to begin.
News
Fortnite Update Vaults Boom Bow and Adds Chug Splash
June 18, 2019
The new Fortnite v9.30 Patch was released today bringing a new beverage to the list of healing items. Chug Splash works a little bit like Chug Jug in the means of being able to heal both health and shield but only by 20. It is also different by how this item has to be thrown so it can be shared amongst teammates and even enemies.
As for the vaulted items, the Boom Bow and Dynamite was taken out to reduce availability in explosives. As well, the Combat Shotgun's damage was reduced in medium and long-range distances. To check out the full notes go to Epic's site here.
New Fortnite Horde Rush LTM
June 13, 2019
Fortnite released Fiends back on the island with the new Horde Rush LTM. With this game mode, you can squad up with three other people and defend certain areas from the Fiends. You and your team will search for weapons and materials during and in between stages that will eventually lead up to a boss fight.
The update also brought new special challenges and rewards including the Fiend wrap. Unfortunately, the Horde Rush LTM was having issues and was quickly disabled. However, the challenges are still available and will be ready to accomplish once the mode is brought back in. Check out the full notes here.
Fortnite Update Adds Proximity Grenade Launcher and More
June 12, 2019
The Fortnite Update v9.21 was sent out today bringing a new grenade launcher where the grenades explode when near an opponent. The Proximity Grenade Launcher does 67/70 damage to players and 131/138 to the environment. It is semi-automatic holding two rounds with a 2.8s/3s reload speed.
On top of that, there was an increase in drop rate for Small Shield and regular Shield Potions and an increase in shotguns from 8.50% to 9.77%. The new Storm Flip also got an adjustment where it now holds a flat damage rate of 5 every second. Check out some more specs at Epic's site here.
See all news posts