Welcome
Fortnite Scout is the best stats tracker for Fortnite, including detailed charts and information of your gameplay history and improvement over time.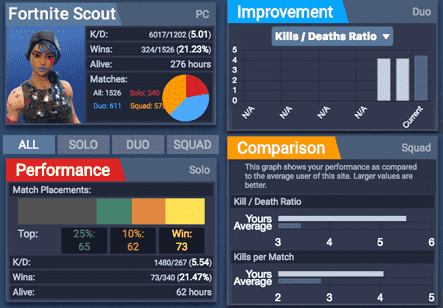 Enter your Epic Games username above to begin.
World Rankings
Wins Leaderboard
PC
Playstation
Xbox
News
New look!
June 21, 2018
Hello everyone! We're pleased to unveil our new website design! Please let us know what you think.
This update comes with some other goodies as well.
A better desktop experience for those who keep their stats open on a second monitor.
GDPR compliance.
Bug fixes, especially for those of you switching between console and PC.
We streamlined our graphs, as Epic Games is still working on the "Time Played" stats.
Thank you for your loving support! Reach out to us via twitter and share our features (especially our superior streaming overlays) with your friends!
Is Epic testing faster networking?
May 10, 2018
iOS App Now Available!
May 2, 2018
After months of convincing non-gamers at Apple that a Fortnite stat tracker is not a clone of Fortnite itself, the iOS version of Fortnite Scout is now available! Want to check on that guy you're now spectating without alt-tabbing out of the game? Maybe you want to track how well you do as a team vs solo? Maybe check out your favorite streamer before committing to a squads match?
Or perhaps you want to brag that you're very quickly catching up to be the next Ninja.
No matter how you like your statistics served, it can all be done from your phone now! No more weird mobile web browser, no more zooming to use other inferior trackers designed for desktops. It's free, so give it a try!
And let us know what you think on Twitter. We do enjoy chatting with you.
See all news posts