Player Searching now working! Updated January 2022!
Welcome
Fortnite Scout is the best Fortnite tracker for stats, including detailed charts and information of your gameplay history and improvement over time.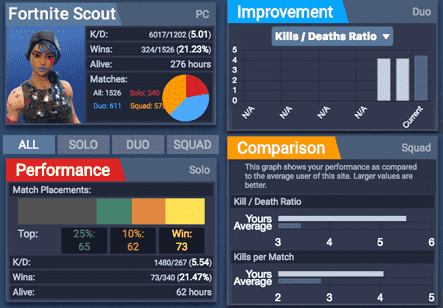 Enter your Epic Games username above to begin.
News
Naruto X Fortnite is Finally Here
November 16, 2021
Naruto, Sasuke, Sakura, and Kakashi have all arrived into Fortnite along with Shinobi gear and the Kurama Glider! On the Island, Kakashi also has some missions you can complete available for the rest of the season. In creative mode, you can visit the Hidden Leaf Village adventure map to complete fun quests to unlock more of the map. You can read more at Epic's site here.
Fortnite Unvaults the Grappler
November 3, 2021
From GameRant: With 2021 moving into a brand new month, Fortnite is deciding to add more content to the game in the form of a hotfix. The new update removes all of the Halloween imagery adorning the title, and unvaults the fan-favorite weapon, the Grappler. However, beyond the addition of the Grappler, Fortnite is introducing a new, chilly variant of the weapon: the Icy Grappler… READ MORE
Fortnite Announces Shortnitemares Horror Event
October 27, 2021
From GameRant: With only days left until Halloween this year, video games are pulling out all the stops to get people in the spooky holiday spirit. This includes Fortnite, which is beginning to reveal details about its latest Fortnitemares event. Titled Shortnitemares, the upcoming event will feature a collection of horror-themed animated shorts just in time for Halloween… READ MORE
See all news posts
Fortnite Scout uses cookies and collects your device's advertising identifier and Internet protocol address. These enable personalized ads and analytics to improve our website. Learn more or opt out: Privacy Policy