Welcome
Fortnite Scout is the best stats tracker for Fortnite, including detailed charts and information of your gameplay history and improvement over time.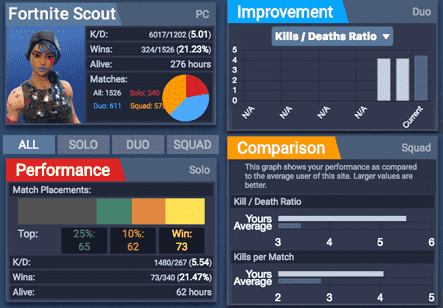 Enter your Epic Games username above to begin.
World Rankings
Wins Leaderboard
PC
Playstation
Xbox
News
Food Fight LTM and Mounted Turret Update
November 14, 2018
Epic has launched a new update that consists of a new Limited Time Mode called Food Fight. This mode has two teams divided by a wall for the first several minutes of the game in order to build a fortress at the restaurant that holds your mascot. The purpose of the game is to destroy the other team's mascot before they destroy yours.
In addition, gathering resources are increased and players can respawn after 7 seconds with all their inventory when eliminated. This seems like a fun battle of Pizza Pit versus Durr Burger to take part in.
The new Mounted Turret is set as a Legendary Trap that can be found in Floor Loot, Supply Drops, Vending Machines, and Supply Llamas. When placed, any player can hop in and start shooting. However, don't shoot for too long because it can overheat.
On top of all of these additions the glider redeploy has been disabled in default modes and there is a new solo tournament called the Scavenger Pop-Up Cup. Read more about the entire update here.
Fortnite Update Adds Team Terror Mode and More
November 6, 2018
From GameRant: Epic Games details the contents of update 6.22 for Fortnite including the second part of the Fortnitemares quest, a new Battle Royale weapon, and Team Terror mode… READ MORE
Here is What Happened During the Cube Event
November 5, 2018
From GameRant: Millions of Fortnite players put away their pickaxes and holstered their weapons for a brief moment of solidarity to witness one of the battle royale's most ambitious in-game events to date. After months of build-up, rumors, and speculation, the giant purple cube that has been roaming around the map finally exploded, potentially changing the battle royale map forever… READ MORE
See all news posts