Fortnite Scout is the best stats tracker for Fortnite, including detailed charts and information of your gameplay history and improvement over time.
Search your Fortnite player name to get started: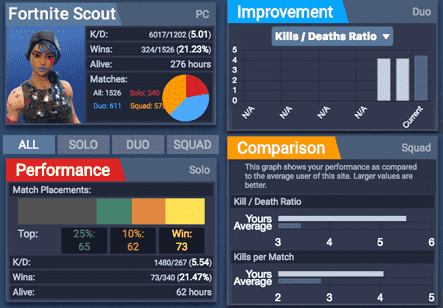 NEWS
IGN: New Blitz Game Mode Explained
March 19, 2018
iOS Beta invites are happening!
March 15, 2018
And Fortnite Scout is in. It doesn't look like stats are available from Epic just yet, but we promise we'll be ready for them the moment they are. What do you think of the Fortnite iOS beta so far?
Cross platform support for Xbox!
March 14, 2018
Epic games has announced that Xbox will be playable cross platform between Xbox, PC, Mac, iOS, and Android! They haven't given an official date as to when this will be available yet, but they did indicate that it will be in the very near future!
NEW FEATURE: Day Tracking and Match History
March 10, 2018
The Fortnite Scout stats tracker now has match history! This comes in two flavors:
Day Tracking: You can see your placements bar for the day update every few minutes, tracking your Kills, Wins, and Top Placements since the start of the day. This is especially useful for streamers, as you no longer need anyone keeping a tally.
Historical Data: You can see your most recent data snapshots with a breakdown for your Kills, Wins, and Top Placements for each snapshot. If you remain on Fortnite Scout while you play, it will update itself every few minutes to show you a breakdown game-by-game.
We are excited to hear what you think about the new features, as well as what new features you would like added to the site in the future! Now, pull up your stats and get to playing some Fortnite!
Fortnite announces Teams of 20 mode
March 7, 2018
Fortnite's netcode is.. pretty good, really.
March 3, 2018
Battle(non)sense continues their investigation into Fortnite's netcode, explains that the in-game ping metrics are a bit untrustworthy, and how the number of players remaining in a match affects server response time.
Which stats mean the most to you?
March 3, 2018
Hello Fortnite Community! We really want to know what you look for most when putting your squads together. We're ready to make it happen here on Fortnite Scout. Drop us a line at fortnitescout@gmail.com
IGN: Overview of new Hunting Rifle & Patch 3.1.0
March 1, 2018
Fortnite Scout Beta
March 1, 2018
Hello, everyone! We're excited to get started. Please enjoy our site knowing we are actively adding and fixing features. If you have any feedback, feature requests, or other suggestions, please let us know at fortnitescout@gmail.com!
DigitalFoundry: Fortnite 60fps Analysis
March 1, 2018