Welcome
Fortnite Scout is the best stats tracker for Fortnite, including detailed charts and information of your gameplay history and improvement over time.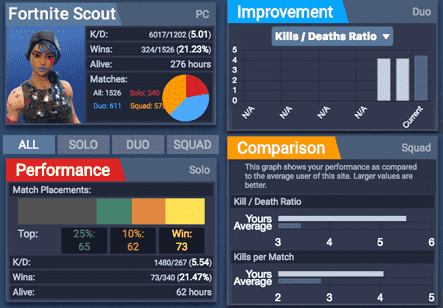 Enter your Epic Games username above to begin.
World Rankings
Wins Leaderboard
PC
Playstation
Xbox
News
Tactical Shotgun Is Back as Epic and Legendary
July 17, 2019
Fortnite was updated today bringing back the Tactical Shotgun into it's new Epic and Legendary variants. This improved weapon can now do maximum damage of 83 / 87 per shot and has a headshot multiplier of 2.25 bringing headshots into the 190s. The gun holds 8 shells and can be shot 1.5 times per second.
Along with this new shotgun, however, the Combat Shotgun has gotten a reduced headshot multiplier from 1.7 to 1.5 and reduced long-range effectiveness. There are now many shotguns to choose from in Fortnite Battle Royale so it will be interesting to see how these are played out. For more information on this update's patch notes check out Epic's site here.
Fortnite Adds Air Strike Item
July 9, 2019
The third Fortnite v9.30 Content Update was launched today bringing a different kind of throwable item. The Air Strike is a canister you throw to direct a shower of missiles from above. Once the canister comes to rest, 20 missiles will spawn after a short delay.
The missiles will land in random spots within a 9-meter radius of the canister. Each missile deals 75 damage to players and 200 to structures. It is a Legendary item found in stacks of 1 with a max size of 2. This seems like a very powerful weapon to take out players' builds when timed right and will be interesting to see how it plays out especially in late-game. Check out the full update at Epic's site here.
Fortnite Releases Drum Shotgun
July 2, 2019
Today's new Fortnite Content Update introduced a new gun called the Drum Shotgun. This new shotgun is different from the rest in that it fires quickly and automatically with a clip size of 12. However, it has a less accurate shot and does lower damage at 45 / 47 / 50 per shot.
It comes in Common, Uncommon, and Rare variants and can be found in Floor Loot, Vending Machines, and Loot Carriers. Check out more of the Content Update for the other Fortnite modes here.
See all news posts