Add Fortnite Scout Stats to Your Stream
You can show your Fortnite progress for the stream session, including your wins, k/d and placement statistics, right under your in-game health bar! Fill in the following information:
To add this to your stream, create either a BrowserSource (OBS Studio) or Webpage URL (XSplit Add->Other) and paste the URL and sizing numbers from above.
Thank you for NOT cropping out our branding. Fortnite Scout does not make money from the streaming overlay, so the more people that know about us through your stream, the longer we can continue doing what we're doing.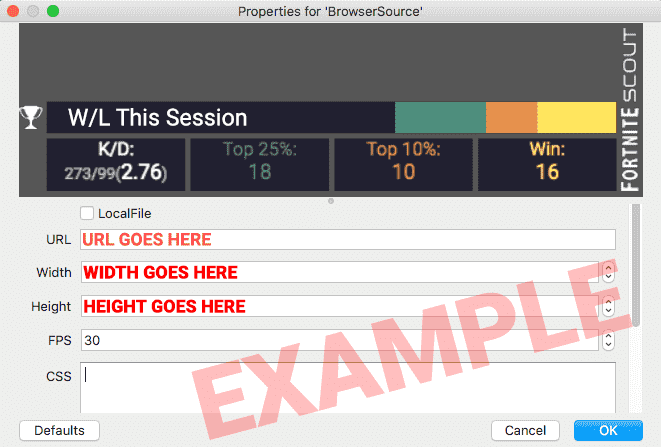 Move your new Fortnite Scout layers in place underneath your in-game health bar, map, or wherever you like. The recommended position listed above will work for most people running a default streaming setup, but you may have to position it manually. If you can't see the game in your stream monitor, try bringing up your inventory (default: Alt key) before alt-tabbing out of the game.
THINGS TO KNOW:
While you're streaming, the Fortnite Scout layer will update your stats every 3 minutes. Actual data refresh times may vary slightly depending on Fortnite's own update speeds.
Overlays that track data per streaming session will reset if the session ends. Things work fine in our testing under a default environment, but any settings you apply that would break the browser session (restarting OBS or Xsplit, or forcing layers to deactivate when invisible) will cause those overlays to start over.
Users report that the overlay may not work with the deprecated "OBS Classic" CLR Browser Plugin due to that software not fully supporting Javascript or CSS. Please consider using OBS Studio instead with its modern, built-in BrowserSource layer.
Fortnite Scout uses cookies and collects your device's advertising identifier and Internet protocol address. These enable personalized ads and analytics to improve our website. Learn more or opt out: Privacy Policy