×
Whoops, we encountered a problem!
Could not find any data for anyone named "whomoo" on Xbox One. Make sure your
Leaderboard Privacy
setting is set to Public!
×
Console players! Be aware that your Xbox Live or Playstation Network username is not necessarily your Epic username for Fortnite!
Epic Games recommends creating a new Epic account for each platform from which you play: PC, Xbox, and Playstation.
Once you've created your Epic account (or promoted your console account to a full Epic account), you can return here and view your console stats with your new Epic username.

Welcome
Fortnite Scout is the best stats tracker for Fortnite, including detailed charts and information of your gameplay history and improvement over time.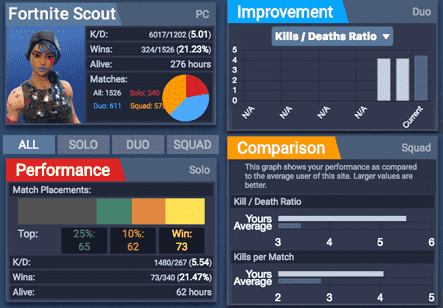 Enter your Epic Games username above to begin.
World Rankings
Wins Leaderboard
PC
Playstation
Xbox
News
Fortnite Update Adds Infantry Rifle and More
April 18, 2019
The Fortnite Update 8.40 was just released with new LTM's, weapons, and even interactions. The new Epic and Legendary weapon called the Infantry Rifle is a semi-automatic rifle that deals 42/44 damage and uses medium ammo. As well, the egg-themed grenade launcher is back basically just to get in style for the season.
Along with the weapons, there are two new Limited Time Modes one in which looks a lot different from what they have had in the past. The new Air Royale takes battle royale to the skies where you and a partner have to stay alive as the last one's flying. With all of this Fortnite has also added the ability to pet the dog and other animals. Take a look at the other mode and more at Epic's Patch Notes here.
Fortnite Adds New Reboot Van to Respawn Teammates
April 10, 2019
From GameRant: About a month ago, a datamine of Fortnite Battle Royale's game files uncovered that Epic Games intended on including a new teammate respawn mechanic in its free-to-play multiplayer shooter at some point in the future. Now, it looks as if the studio has actually followed through with an update that has brought what it is calling "Reboot Vans" into the wildly successful multi-platform battle royale release… READ MORE
Fortnite Season 8 Week 6 Secret Banner Location
April 4, 2019
From GameRant: Fortnite players were met with some new challenges this week, which include visiting a stone pig, metal llama, and a wooden rabbit, searching where the knife points on the treasure map loading screen, and visiting the 5 highest point of elevations. After all that and more, players will be able to collect a secret banner for their locker, but Epic Games has bamboozled its players this week… READ MORE
See all news posts