×
Whoops, we encountered a problem!
×
Console players! Be aware that your Xbox Live or Playstation Network username is not necessarily your Epic username for Fortnite!
Epic Games recommends creating a new Epic account for each platform from which you play: PC, Xbox, and Playstation.
Once you've created your Epic account (or promoted your console account to a full Epic account), you can return here and view your console stats with your new Epic username.

Welcome
Fortnite Scout is the best stats tracker for Fortnite, including detailed charts and information of your gameplay history and improvement over time.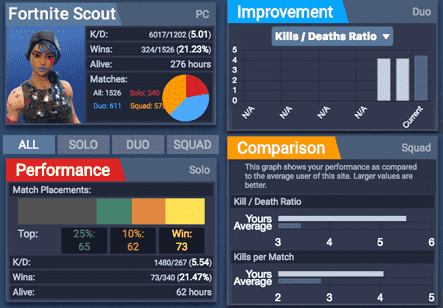 Enter your Epic Games username above to begin.
World Rankings
Wins Leaderboard
PC
Playstation
Xbox
News
Stormtrooper Outfit Comes to Fortnite
November 15, 2019
Fortnite will be putting out a Stormtrooper Outfit in the item shop on November 17 at 7pm ET! But that's not all, if you purchase the new game Star Wars Jedi: Fallen Order on PC in the Epic Games Store you will be able to get the outfit for free. For more details check out Epic's site here.
Fortnite Adds New Harpoon Gun
November 6, 2019
From GameRant: Fornite has added yet another patch update and with it comes the new Harpoon Gun. In what seems to be a recent trend for Fortnite, the patch released early Tuesday morning and was issued without any additional notes on the item. Players discovered the harpoon while in-game and have had to discover its actual use via gameplay… READ MORE
Fortnite Darkfire Bundle: Here's Everything It Comes With
November 5, 2019
From GameRant: Fortnite has proven to be one of the most popular games of the last two years, and a lot of that success is due to how aggressively Epic Games can market it. It's gotten very good at putting the game where it's visible to the average consumer curious about what all the fuss over this battle royale shooter is about. To that end, with the holiday season just about starting, a new Fortnite bundle is now available to make the game even more visible to busy shoppers… READ MORE
See all news posts