×
Whoops, we encountered a problem!
Could not find any data for anyone named "toxic laura" on Touch. Make sure your
Leaderboard Privacy
setting is set to Public!

Welcome
Fortnite Scout is the best stats tracker for Fortnite, including detailed charts and information of your gameplay history and improvement over time.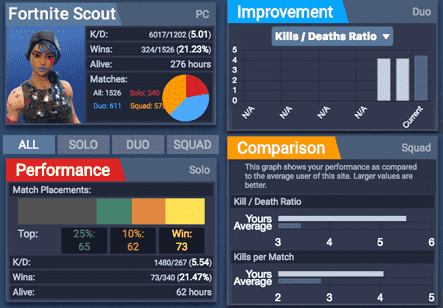 Enter your Epic Games username above to begin.
World Rankings
Wins Leaderboard
Keyboard & Mouse
Gamepad
Touch
News
Fortnite Permanently Discounts V-Bucks by up to 20%
August 13, 2020
Fortnite has announced the Mega Drop which permanently drops V-Bucks prices by up to 20% on consoles and PC. As well, they have launched a new way to pay on iOS and Android. It is called Epic direct payment which can also save you up to 20% off rather than going through the Apple App Store or Google Play Store.
Plus, if you have purchased any V-Bucks or real-money offer in the last 30 days you will receive a V-Bucks bonus! Read More at Epic's post here.
How to Drive Cars and Where to Find Them
August 6, 2020
From GameRant: Fortnite is one of the most popular battle royale games and this is because of its unique building mechanics and impressive crossover events. The latest update to the game has introduced a new variable as players can now drive around the map as they attempt to be the last team standing. The ability to drive has been long-awaited in Fortnite, but there are some factors players should take into consideration before they start jumping into vehicles and experiment with the new mode of transport… READ MORE
Fortnite is Getting Cars This Week
August 4, 2020
From GameRant: Season 3 of Epic Games' battle royale Fortnite has been defined by its underwater theming, as the in-game map being flooded introduced mechanics like water skiing behind loot sharks, as well as a crossover with DC Comics' Aquaman. However, as the map has begun to drain, players are waiting on a promised update adding cars to drive around Fortnite's island. Now it seems that update is finally on its way… READ MORE
See all news posts