×
Whoops, we encountered a problem!
Could not find any data for anyone named "YouTube LineaX" on Touch. Make sure your
Leaderboard Privacy
setting is set to Public!

Welcome
Fortnite Scout is the best stats tracker for Fortnite, including detailed charts and information of your gameplay history and improvement over time.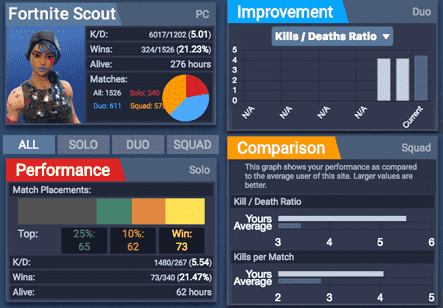 Enter your Epic Games username above to begin.
World Rankings
Wins Leaderboard
Keyboard & Mouse
Gamepad
Touch
News
New Oro's Challenges and Items
March 26, 2020
The new Legendary outfit Oro has been released along with a free gold Wrap and Gilded Sceptor pickaxe you can earn from completing challenges. Only two challenges need to be finished for the Wrap and all four for the pickaxe. Here is what they look like:
Assist teammates with 10 eliminations.
Play 10 games with a friend.
Deal 1,000 damage to opponents.
Collect 40 medals.
Along with each challenge, rewards a hefty 100,000 XP. For more details and a look at the new items head over to Epic's news post here.
Helicopters Are Coming to Fortnite
March 17, 2020
From GameRant: Thanks to dataminers, Fortnite players have known for some time that helicopters would soon be added to the game. Now Epic Games has officially announced that Fortnite helicopters are indeed coming in the form of a new vehicle called the Choppa, which can be used by up to five players at a time. Fans should be able to try them out later today… READ MORE
Fortnite is Getting Rid of Legacy Controls
March 9, 2020
From GameRant: The aim assist debate for Fortnite among the community is seemingly coming to a close. Epic plans to sunset the "Legacy Look Controls" for controller players on March 13, 2020. The battle royale supports cross-platform play, one of the first games to do so, which is why fans have often argued the fairness between precision aiming on a mouse and keyboard, and aim assistance on a console… READ MORE
See all news posts