×
Whoops, we encountered a problem!
Could not find any data for anyone named "brothasupshall" on PlayStation 4. Make sure your
Leaderboard Privacy
setting is set to Public!
×
Console players! Be aware that your Xbox Live or Playstation Network username is not necessarily your Epic username for Fortnite!
Epic Games recommends creating a new Epic account for each platform from which you play: PC, Xbox, and Playstation.
Once you've created your Epic account (or promoted your console account to a full Epic account), you can return here and view your console stats with your new Epic username.

Welcome
Fortnite Scout is the best stats tracker for Fortnite, including detailed charts and information of your gameplay history and improvement over time.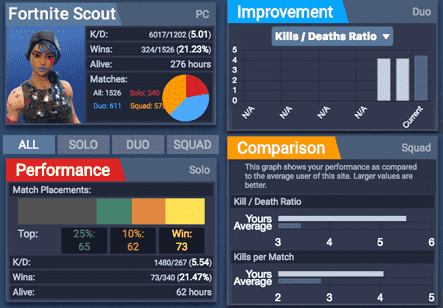 Enter your Epic Games username above to begin.
World Rankings
Wins Leaderboard
PC
Playstation
Xbox
News
Fortnite Season 8 Week 4: How to Beat All Challenges
March 22, 2019
From GameRant: A new week in Fortnite means yet another set of challenges to complete on the road to unlocking the tier 100 Luxe skin. It's worth mentioning that finishing these challenges doesn't just help unlock the Luxe cosmetic, but it adds up to the secret Discovery skin as well as the hidden banner reward as a result… READ MORE
Fortnite Update Adds Flint-Knock Pistol
March 20, 2019
From GameRant: Ever since the beginning of Season 8 in Fortnite Battle Royale, Epic Games has continued to include a bunch of fresh content for players to engage with, such as the new map changes or the addition of The Baller vehicle. Now, the video game developer has decided to bring a new weapon into the fold that supports some of the pirate themes players have seen with the eighth season, as the Flint-Knock Pistol has officially made its way into the game… READ MORE
Update Adds New Vehicle and Changes to Vending Machines
March 12, 2019
Fortnite update v8.10 rolled out today along with a new vehicle called The Baller. This is a single-seater where you can roll around, boost, and grapple while staying safely inside with The Baller having 300 damage. It can be found around Expedition Outposts and pirate camps.
As for the Vending Machines, the items are no longer required to be paid for. However, once an item has been claimed from that Vending Machine it will be destroyed. Get there quick because the Common and Uncommon machines have been removed making them highly valuable.
On top of that, there are more changes to the gameplay with custom animations for healing items and bug fixes for the pirate cannon. As well, Xbox One and PS4 players are now required to opt-in for cross-play with each other to have access to Creative Mode and Playgrounds. Read more on the patch notes at Epic's site here.
See all news posts