×
Whoops, we encountered a problem!
Could not find any data for anyone named "PLAZA_CO" on PlayStation 4. Make sure your
Leaderboard Privacy
setting is set to Public!
×
Console players! Be aware that your Xbox Live or Playstation Network username is not necessarily your Epic username for Fortnite!
Epic Games recommends creating a new Epic account for each platform from which you play: PC, Xbox, and Playstation.
Once you've created your Epic account (or promoted your console account to a full Epic account), you can return here and view your console stats with your new Epic username.

Welcome
Fortnite Scout is the best stats tracker for Fortnite, including detailed charts and information of your gameplay history and improvement over time.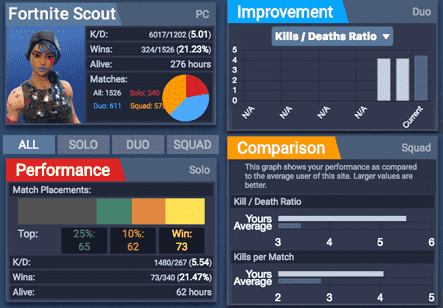 Enter your Epic Games username above to begin.
News
Fortnite Chapter 2 – Season 2 Release Date
January 24, 2020
February 20 Fortnite will be getting some big changes with the start of Season 2. This includes some secretes they have not revealed yet and that Fortnite will be moving to Unreal Engine's Chaos physics engine.
So, they have begun testing with a small group of players beforehand and will keep making improvements. In the meantime, Fortnite will be getting more Overtime Challenges and a new two-week event. Check out the full post at Epic's site here.
How to Sidegrade Weapons in Fortnite
January 16, 2020
From GameRant: Fortnite Chapter 2 has been a massive hit, and players have been enjoying all the new features and improvements that came with the latest chapter of the game. On top of all that, Epic Games has been busy introducing new crossover events and other fun activities to keep the player base engaged. The Winterfest event got wrapped up recently, but Epic Games is not one to wait; instead, they just released the latest v11.40 patch update for the game which brings some changes to the battle royale. The most significant addition was the new feature known as Sidegrading… READ MORE
How to Get the New 2020 Glider
January 2, 2020
From GameRant: Fortnite brought in the new year with some big explosions and fireworks, similar to the new year's celebration for 2019. The celebration was a gathering of gamers ready to bring in 2020 with some Battle Royale Matches and fireworks. But players also got an additional little gift; a new glider for a finding an unlit firework on the map… READ MORE
See all news posts