×
Whoops, we encountered a problem!
Could not find any data for anyone named "NoSKiNTOPROSCRiM" on PlayStation 4. Make sure your
Leaderboard Privacy
setting is set to Public!
×
Console players! Be aware that your Xbox Live or Playstation Network username is not necessarily your Epic username for Fortnite!
Epic Games recommends creating a new Epic account for each platform from which you play: PC, Xbox, and Playstation.
Once you've created your Epic account (or promoted your console account to a full Epic account), you can return here and view your console stats with your new Epic username.

Welcome
Fortnite Scout is the best stats tracker for Fortnite, including detailed charts and information of your gameplay history and improvement over time.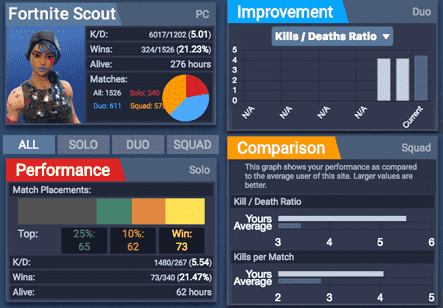 Enter your Epic Games username above to begin.
World Rankings
Wins Leaderboard
PC
Playstation
Xbox
News
Fortnite Adds The Block to Map for Player Created Content
December 7, 2018
From GameRant: At The Game Awards 2018, Epic Games adds an area called The Block to the Fortnite map, saying that it will use the space to show off community creations… READ MORE
Season 7 Update Adds Fighter Plane
December 6, 2018
From GameRant: Fortnite Season 7 has finally begun, and thanks to the patch notes, players now know what to expect. One of the major changes this season is the addition of the game's first aerial vehicle, which is called the X-4 Stormwing Plane. Alongside a new biome, some vaulted weapons, and some major changes… READ MORE
Fortnite Is Getting a New Creative Mode
December 5, 2018
With the update of Season 7, Fortnite will be getting a big new game mode called Fortnite Creative. With this, you get an entire island to yourself where you can design games, roam around with friends, and battle like never before all with the ability to save.
Battle Pass owners of Season 7 will get the first look at this new way to experience the Fortnite world for the first week. After that, a private island will be free to all that play. Epic is planning on making this mode better and better just like Save the World and Battle Royale. Check out the original post for some videos of it here.
See all news posts