×
Whoops, we encountered a problem!
Could not find any data for anyone named "TSM_Hamlinz" on PC. Make sure your
Leaderboard Privacy
setting is set to Public!

Welcome
Fortnite Scout is the best stats tracker for Fortnite, including detailed charts and information of your gameplay history and improvement over time.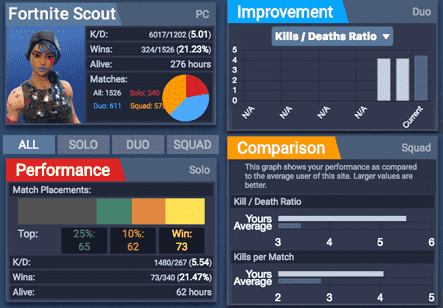 Enter your Epic Games username above to begin.
News
Update Adds Junk Rift That Can Deal 200 Damage
August 20, 2019
The v10.10 Content Update was released today with a new type of rift item. The Junk Rift is a throwable item that spawns a large random object from the sky. That item can then land on the target to destroy everything in its path doing 200 damage on direct contact and 100 damage from its shockwave.
This new weapon seems to be a made for a way to defend against the BRUTE mechs. However, it has to hit the mech right on to be able to get full damage. It will also be interesting to see how this will be used in other ways than just fighting off mechs. Check out the full notes at Epic's site here.
Epic's Response to the Strength of BRUTE Mechs
August 19, 2019
From GameRant: In response to continued frustrations with Fortnite's BRUTE mechs, Epic Games has issued a clarification regarding their design philosophy. "The mission of Fortnite is to bring players of all skill levels together" is Epic's core message, and BRUTEs, according to Epic, were implemented in part to further this mission… READ MORE
Update Brings Back Retail Row and Makes Other Changes
August 15, 2019
From GameRant: It looks like another blue light special awaits Battle Royale players in Fortnite, as the Retail Row has made its return with the game's latest update. Epic Games provided some notes with Fortnite's v10.10 patch, with the returning mega mall leading the charge… READ MORE
See all news posts