×
Whoops, we encountered a problem!
Could not find any data for anyone named "MrDoom" on PC. Make sure your
Leaderboard Privacy
setting is set to Public!

Welcome
Fortnite Scout is the best stats tracker for Fortnite, including detailed charts and information of your gameplay history and improvement over time.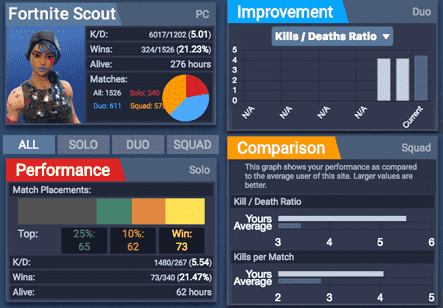 Enter your Epic Games username above to begin.
News
Fortnite Adds Revolver and Unvaults Pump Shotgun
June 25, 2019
The first Content Update for Fortnite v9.30 was released today making big changes to the weapons. First off the Revolver was introduced as Epic and Legendary variants that can deal 63/66 damage with a headshot multiplier of 2. It holds 6 rounds and uses Medium Ammo.
As for the current items, Fortnite unvaulted the Pump Shotgun and decreased the availability of the Tactical Shotgun while increasing its headshot multiplier. As well, the Rare Tactical Assault Rifle was replaced with the Suppressed Submachine Gun. More changes like this, the vaulting of Rift-To-Go's, and the DrumGun nerf can be found at Epic's Patch Notes here.
Fortnite's 14 Days of Summer
June 24, 2019
Fortnite is launching a fun event tomorrow for the next two weeks to celebrate Summer. Each day there will be an unvaulted weapon for 24 hours, a new LTM for the day, and a daily challenge that come with a free reward. Check out all the LTM details and more on 14 Days of Summer for Creative and Save the World at Epic's site here.
Fortnite Adds Prop Hunt Creative Game
June 19, 2019
Fortnite just introduced a new type of game called Prop Hunt. In this game, there are Hunters and Hiders. The Hiders find a prop to turn into where they can run around and stay hidden from the Hunters. The Hunters need to eliminate all the Hiders before the time runs out to win while the Hiders need to survive to win.
Creative mode has added the necessary settings and devices to be able to build your own Prop Hunt game. But to get playing now, the Featured Island for Prop Hunt created by StrayKite is 6069-9263-9110. Check out the video trailer for the game here.
See all news posts