×
Whoops, we encountered a problem!
Could not find any data for anyone named "LP Zaxi" on PC. Make sure your
Leaderboard Privacy
setting is set to Public!

Welcome
Fortnite Scout is the best stats tracker for Fortnite, including detailed charts and information of your gameplay history and improvement over time.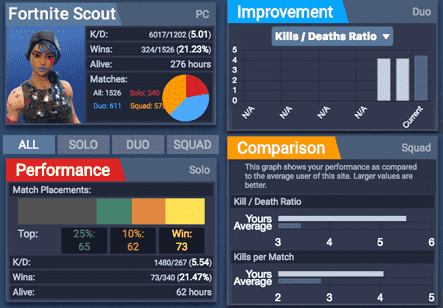 Enter your Epic Games username above to begin.
World Rankings
Wins Leaderboard
PC
Playstation
Xbox
News
Fortnite Adds the Driftboard and It's New LTM
February 19, 2019
Fortnite Content Update 7.40 adds the long-awaited Driftboard where you can boost around and land awesome tricks all while shooting at enemies! The Driftboard was first announced in December where it was supposed to be launching in update 7.10. However, it had some complications on the addition and had to be delayed.
Nevertheless, Fortnite came through and brings a new and exciting limited time game mode along with it. The mode called Drifin' has two teams of 32 players where you can find the Driftboards in red Supply Drops around the map. All of the Chests and Ammo Boxes have been removed but the Driftboard regenerates your health and shield. Be the last team standing to get the win. Check out the full update at Epic's site here.
How to Unlock the Fortnite Season 8 Battle Pass for Free
February 14, 2019
From GameRant: Fortnite players can typically unlock a Battle Pass by either saving the V-bucks they've earned throughout the Battle Royale or Save the World Mode, or by forking over $10 in real-world cash. But for the upcoming season 8 Battle Pass, developer Epic Games has made a way for players to unlock it absolutely free, allowing the player to save onto their V-bucks and/or cash… READ MORE
Major Changes to Plane Damage and Weapons
February 11, 2019
From GameRant: According to a post on the official Fortnite Battle Royale subreddit, this week's v7.40 update for the free-to-play title is set to change it so that planes can no longer fly through structures and destroy them, which ought to promote a sense of safety to those perched atop a tower they've built while doing battle with an X-4 Stormwing. What's more is that rocket launcher reload times will be increased from 2.52s to 3.24s, giving those on the receiving end of the explosive weapon a little more time to try and survive… READ MORE
See all news posts