×
Whoops, we encountered a problem!
Could not find any data for anyone named "Alone like moon" on PC. Make sure your
Leaderboard Privacy
setting is set to Public!

Welcome
Fortnite Scout is the best stats tracker for Fortnite, including detailed charts and information of your gameplay history and improvement over time.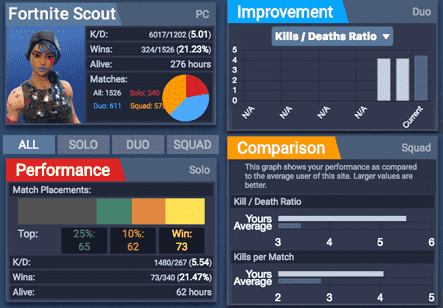 Enter your Epic Games username above to begin.
News
Fortnite Season 2 Map Changes Add Secret Villain Lairs
February 20, 2020
From GameRant: Fortnite Chapter 2 Season 2 is now live. Epic Games launched the latest season of Fornite, subtitled Top Secret, early Thursday morning. The new Fortnite season brings with it a range of new spy-themed content, as the island has been taken over by covert operatives. The biggest changes to the Fortnite map involve these agents of Ghost and Shadow's new secret bases. Fortnite players will be able to track down these new hideouts and discover their secrets for themselves… READ MORE
Fortnite Adds New Search and Destroy Mode for Limited Time
February 6, 2020
From GameRant: Epic Games has introduced a new community-made limited time mode (or LTM) called Search and Destroy to Fortnite, and it is available to play today. The game mode is part of Fortnite's Valentine's Day-themed Love and War event, which will continue until February 17, three days after the holiday proper… READ MORE
Fortnite Celebration Cup
February 4, 2020
Starting February 15th the Fortnite Celebration Cup Solo competitions for Playstation 4 players will begin. On the first day, players will have the chance to earn in-game items when getting into the top 50, 25, and 5 percent. For the day after on February 16th, players could win a share of the $1,000,000 prize pool across the globe. For more details check out Epic's site here and the competition's Official Rules here.
See all news posts