×
Whoops, we encountered a problem!
Could not find any data for anyone named "Agares29_Twitch" on PC. Make sure your
Leaderboard Privacy
setting is set to Public!

Welcome
Fortnite Scout is the best stats tracker for Fortnite, including detailed charts and information of your gameplay history and improvement over time.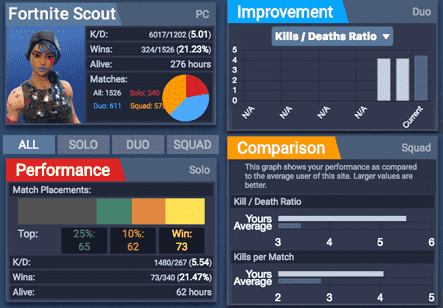 Enter your Epic Games username above to begin.
World Rankings
Wins Leaderboard
PC
Playstation
Xbox
News
Fortnite X Jumpman Update Brings New LTM and Outfits
May 23, 2019
The Fortnite update introduced a new LTM called The Downtown Drop made by Creative artists NotNellaf & Tollmolia. In this game, you slide and jump around with the purpose of collecting coins and Jordan sneakers to win. As you run around you will be able to throw Boogie Bombs and Shockwave Grenades to mess with your competitors and boost yourself.
With the new game mode, they brought new items inspired by basketball and skateboarding that include the Get the Grind Outfit and Clutch Outfit. Special challenges were also added to be able to earn free back bling skateboards with nine different types of styles. Check out the video and skateboards at Epic's site here.
Fortnite Update Adds Hot Spots and More
May 22, 2019
Fortnite Update v9.10 was released today that introduced Hot Spots, unvaulted the Semi-Auto Sniper Rifle, and fixed various bugs. The new Hot Spots are randomly selected locations on the map with high amounts of loot and an increase in supply drops. To know where to drop, you can find the selected location shown in gold text on the map.
There will be at least one Hot Spot per game and a 25 percent chance of two spots and a 5 percent chance of three spots. In those spots, you can find 12 to 16 Loot Carriers that drop a weapon of Rare or higher. For more details on some changes to the weapons and gameplay check out the patch notes here.
New Wick's Bounty LTM and More
May 16, 2019
A new Limited Time Mode in Fortnite Battle Royale was released today in partnership with the new John Wick movie. The object of the game is for your squad to be the first to collect the specified gold token count. You have three lives and start off with a few gold tokens. Once you eliminate someone you will obtain all of their tokens.
However, the more tokens a player has the more visible they will be on the map. So be careful when getting on top. This mode also comes with special challenges to earn free rewards like a black glider, wrap, and the Gold Token Back Bling. As well, you can purchase the John Wick set in the item shop. Check out this John Wick update at Epic's site here.
See all news posts