×
Whoops, we encountered a problem!
Could not find any data for anyone named "Nick Eh 30" on Keyboard & Mouse. Make sure your
Leaderboard Privacy
setting is set to Public!

Welcome
Fortnite Scout is the best stats tracker for Fortnite, including detailed charts and information of your gameplay history and improvement over time.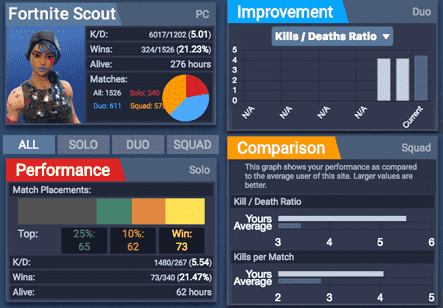 Enter your Epic Games username above to begin.
World Rankings
Wins Leaderboard
Keyboard & Mouse
Gamepad
Touch
News
Earn the New Deadpool Outfit
April 3, 2020
Deadpool is here and has taken over the Yacht! You can unlock the outfit just by finishing the mercenary's Week 7 Challenge of finding two of his Akimbo Pistols. You do not have to have completed any of Deadpool's previous challenges. For more information check out Epic's news post here.
Fortnite Player Confirms Bots Teleport in the Game
April 1, 2020
From GameRant: Fortnite is notorious patch updates without notes, and one of the biggest mysteries is how the bots operate. When SBMM (Skill Based Match Making) showed up in the game, many gamers were upset, and it was easier to pick out which avatars were bots. However, with each new Fortnite patch update, it seems that the bots are getting more skilled.  Meanwhile, one Reddit user shed a little light on the mystery and confirmed that bots can now teleport… READ MORE
New Oro's Challenges and Items
March 26, 2020
The new Legendary outfit Oro has been released along with a free gold Wrap and Gilded Sceptor pickaxe you can earn from completing challenges. Only two challenges need to be finished for the Wrap and all four for the pickaxe. Here is what they look like:
Assist teammates with 10 eliminations.
Play 10 games with a friend.
Deal 1,000 damage to opponents.
Collect 40 medals.
Along with each challenge, rewards a hefty 100,000 XP. For more details and a look at the new items head over to Epic's news post here.
See all news posts